Established in July 2005, Hainan Huayan Collagen Technology Co., Ltd. is a national high-tech enterprise integrating product research and development, production and sales, with the registered capital of 22 million yuan. Its headquarters is located in Haikou, Hainan. The company has R&D center and key laboratory of nearly 1,000 square meters, currently has more than 40 patents, 20 corporate standards and 10 complete product systems. The company has invested nearly 100 million yuan to build the largest industrialization base of fish collagen peptide in Asia, with a production capacity of more than 4,000 tons. It is the earliest domestic enterprise engaged in the production of hydrolyzed collagen peptide and the first enterprise that has contained the production license of fish collagen peptide in China.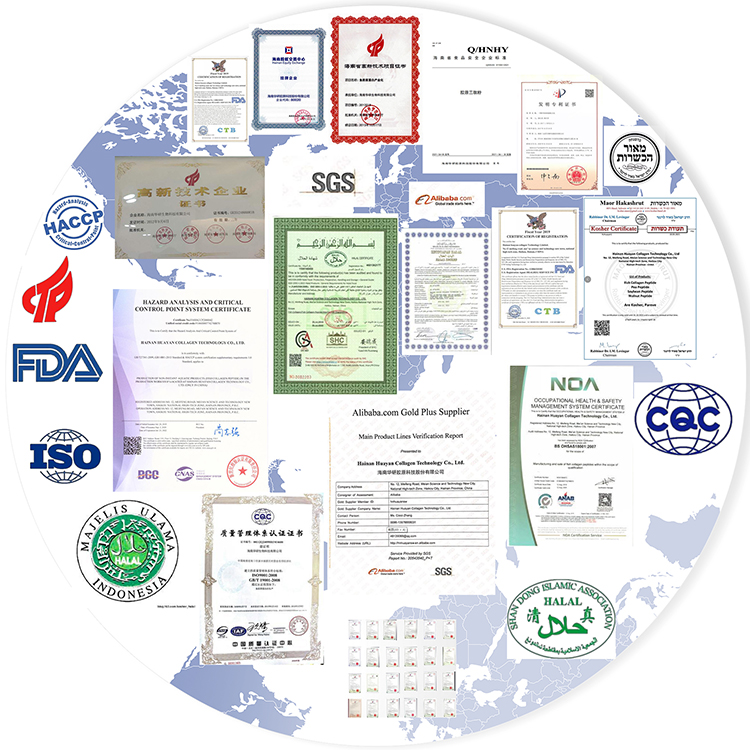 The company has successively passed many certifications such as ISO45001, ISO9001, ISO22000, SGS,HACCP, HALAL, MUI HALAL and FDA. Our products meet the requirements of the WHO and national standards, mainly exported to Europe, America, Australia, Russia, Japan, South Korea, Singapore, Thailand and some countries and regions in Southeast Asia.
Over the past 15 years, all colleagues of our company have persistently adhered to the purpose of committing to the collagen business and serving human health, continuously researching and developing, innovating and improving the production process, adopting internationally advanced low-temperature enzymatic hydrolysis, low-temperature concentration and other advanced production process, which has successively launched fish collagen peptide, oyster peptide, sea cucumber peptide, earthworm peptide, walnut peptide, soybean peptide, pea peptide, and many other small-molecule animal and plant biologically active peptides. The products are widely used in all kinds of fields such as food, cosmetic and pharmaceutical.
Customer Cooperation Model and Service
Domestic traders
(classified agency model)
According to the model of primary agency and secondary distribution
Development Brand owners
(one-stop service)
provide formulas and implement practical solutions
OEM factory
(direct delivery of raw materials)
establish long-term strategic cooperation and mutual endorsement
The products are segmented according to their biological efficacy to meet the needs of different people and different product fields.
High-quality and stable functional animal and plant peptide products can meet the individual needs of nutritious food, health food, weight loss, biological products, pharmaceutical products and cosmetics industries.
2005
In July 2005, established Hainan Huayan Biotech Co., Ltd.
2006
In July 2006, established the first professional plant of fish collagen.
2007
In October 2007, exported the first batch of products with independent intellectual property rights to Japan, the United States, Malaysia, Thailand, New zealand, Australia and other countries.
2009
In September 2009, awarded as "Hainan Top Ten Brand Enterprises" by Hainan Provincial Consumer Commission.
2011
In July 2011, jointly awarded as "Advanced Technology Innovation Unit by Ten Departments, such as the Provincial Industry and Information Administration, the Provincial Fisheries Department, Haikou Municipal Government.
2012
In March 2012, jointly awarded as "Top Ten Scientific and Technological Innovation Units" by Ten departments such as the Provincial Science and Technology Department, the Provincial Industry and Information Technology Department, Haikou Municipal Government.
In May 2012, passed ISO22000:2005 Food Safety Management System certification; ISO9001:2008 Quality Management System certification.
2013
In May 2013, "Fish Collagen Industrialization Project" was identified as a high-tech project in Hainan Province.
2014
In December 2014, signed an investment contract with Haikou National High-tech Development Zone, and invested 98 million yuan to established Fish Collagen Industrialization Base.
2016
In May 2016, awarded as "Chinese Outstanding Contributing Units of Health Management".
2017
In July 2017, identified as "National 13th five-year Marine Innovation and Development Demostration Project" by Ministry of Fiance and State Oceanic Administration.
2018
On the 40th anniversary of the reform and opening up in 2018, on behalf of the China's outstanding national enterprises on the America's Nasdap screen of Times Square in New York.
2019
In May 2019, it has been certificated by international certifications such as FDA and HALAL.
2020
In May 2020, it is honored to be awarded the National Glory Project.